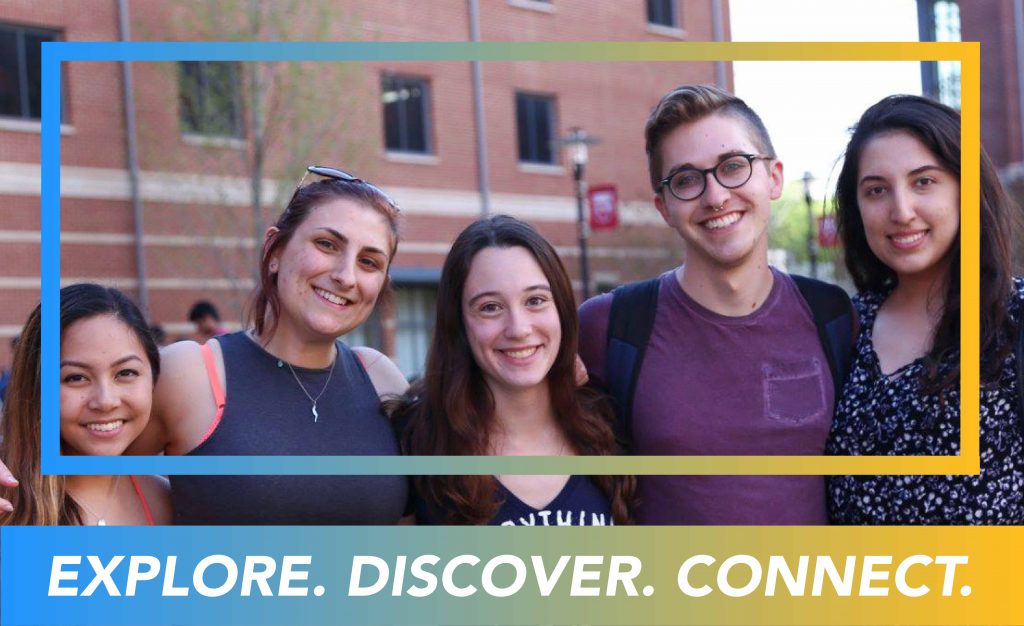 Rutgers University–New Brunswick Learning communities are a self- selected group of students who share similar academic interests and explore them together in common courses and out of classroom activities at no extra cost to the student. Students in learning communities report making friends quickly and expanding their faculty, and staff network.  Learning community residents are afforded unique opportunities for academic and social success.
The majority of communities are residentially based (living-learning communities), which means that participating students not only co-enroll in common courses but also live in the same residence hall.  These communities are a wonderful opportunity for students who are undecided about their major or want to explore a particular academic topic.
There are a multitude of learning community offerings for our new students and our current students. Special interest/themed communities with no academic coursework are also available. Explore the different offerings and choose one that best fits your interests!
Rutgers Learning Communities are designed to give students a shared experience around their academics and/or residential environment. They connect students to faculty within and beyond the classroom, and help to facilitate students' transition from high school to college.
Helps to make Rutgers a smaller campus to manage and provides a smooth and easy transition to Rutgers.
Provides the opportunity to live and learn with students who have similar interests.
Build a supportive network of fellow first-year students, peer mentors, peer instructors, professors and staff.
​Here are the top ten reasons why first-year students join Learning Communities:
"It connected me with other students who have an interest in the same field of study."
"I made new friends easily with students who shared similar interests."
"Since we shared classes together, it helped us form study groups." "
It was good to have familiar faces in my large classes."
"It helped me feel at home in my new home."
"It made my transition from high school to college much easier."
"It helped me explore the major I am interested in."
"The peer mentors and peer instructors helped to answer informal questions about Rutgers."
"It helped make Rutgers a smaller place."
"I was able to have great relationships with faculty."
​
Enroll in common course(s); ranging from one to three shared courses. You'll see friendly faces in your classes.
Provide students with the opportunity to study and learn together outside of the classroom.
Discipline-specific learning community courses count towards major credit requirements for that discipline.
Depending on the LC you choose, each community provides a faculty member, an upperclass peer instructor, or a residential peer mentor who will help guide you through the exploration of what Rutgers has to offer.
Explore Our Communities
---
Info session for Paul Robeson (African Diaspora) LLC, Health and Medicine LLC, Latin Images LLC:
Info session for Health and Medicine LLC, Nourish (Wellness) LLC, and SAS Transfer Knights STEM LLC:​
Info session for Asian American Identities and Images LLC, Health and Medicine LLC, and French Language and Culture LLC:
Living-Learning Community Advisory Council
---
The Living-Learning Community (LLC) Advisory Council is a select group of motivated students representing each LLC, who are dedicated to the development and growth of the LLC program.  Council members will create and lead initiatives for the enrichment of the program and of all LLC students. The LLC Advisory Council is also charged with providing honest and direct feedback on the LLC student experience to program directors, faculty members, and staff, while developing and implementing suggestions for improvement at its monthly meetings.
Students serving on the LLC Advisory Council will have a bold opportunity to shape the future of the LLC program, while developing their own leaderships skills through positive communication and solutions-based creativity. Council members will also be able to foster meaningful relationships with students in other LLCs across the Rutgers campus, as well as the faculty and staff behind the LLC program.