Why Rutgers?
---
As a community of committed professionals supporting one of the most diverse and dynamic student populations in the United States, we offer candidates the ability to grow their skills in a challenging and rewarding environment. One of the nation's leading research universities and the flagship of the State University of New Jersey system, Rutgers-New Brunswick is a proud member of the Big Ten and the prestigious Association of American Universities.
With a rich history dating back to 1766, Rutgers-New Brunswick is the eighth oldest higher education institution in the nation and enrolls over 50,000 full time undergraduate and graduate students. Its four residential campuses span New Brunswick, Piscataway, and adjacent towns in central New Jersey. Within close proximity to New York City and Philadelphia, Rutgers is located in the epicenter of the northeast corridor that runs from Boston to Washington, D.C.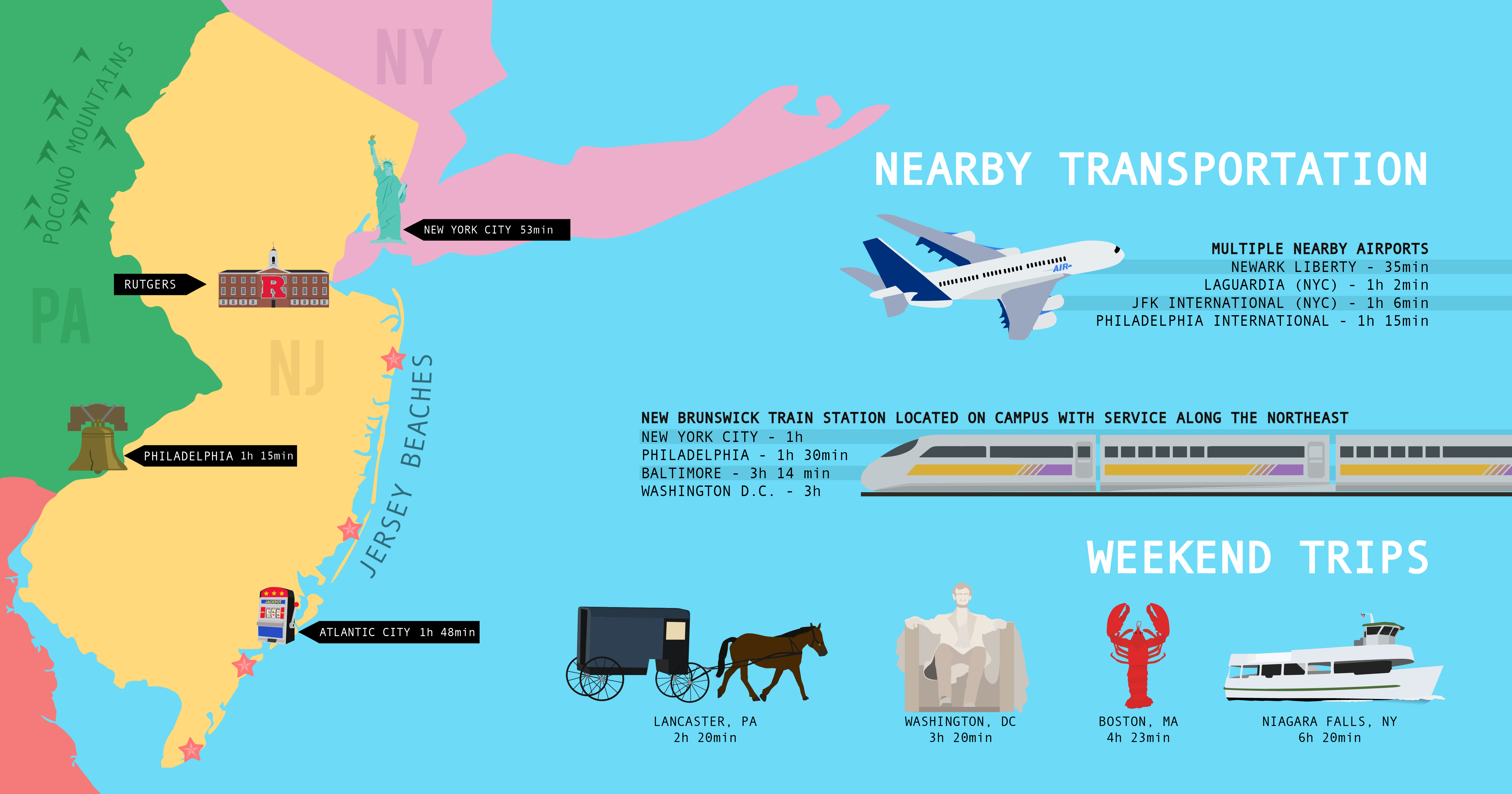 Rutgers Snapshot
---
Learn more about our university, its history, and our community on the Rutgers-New Brunswick website.
Rutgers At A Glance
50,146 students (36,168 undergraduates and 13,978 graduate students)
2,688 acres
18 schools and colleges
Among the top 25 public universities, as ranked by U.S. News & World Report
Division I Athletics
Big Ten Conference
Accredited by the Middle States Commission on Higher Education
Our Students At A Glance
Undergraduates: 49.7% men and 50.3% women
White: 41.5 percent
Asian: 26 percent
Hispanic: 13 percent
African American: 7.5 percent
International: 7.2 percent (representing 115 countries)
Nearly 70 student organizations dedicated to religious and religious-cultural interests.
A top 100 campus for the LGBT community in the Advocate College Guide for LGBT Students.
Why Rutgers Residence Life?
---
The Rutgers Residence Life program is one of the largest in the country, housing over 16,000 undergraduate and graduate students in approximately 50 halls and apartment areas, comprising approximately 140 buildings. Over 3,000 of these students live in living-learning or thematic communities. The Rutgers Residence Life program is very student-centered and service oriented and has been highly rated in student satisfaction surveys. Our Residence Hall Association (RHA) is the largest on-campus organization at Rutgers University and the largest organization of its kind in the country, made up of 35 Hall Governments, four Residential Campus Councils, and an Executive Board.
Rutgers Residence Life is also a part of the university's Division of Student Affairs, which was named one of the 2017 Most Promising Places to Work in Student Affairs by the Center for Higher Education Enterprise (CHEE) at the Ohio State University and the American College Personnel Association (ACPA)-College Student Educators International. Our department is proud of its strong residential communities, its diversity, educational focus, and extensive support for student issues.
What positions does Rutgers Residence Life offer?
---
We offer leadership and employment opportunities to undergraduate students through our resident assistant, apartment assistant, and summer conference assistant positions. Rutgers Residence Life also employs professionals who specialize in various areas. Our campus staff consists of hall directors, professional level residence life coordinators, and directors on each of the four campuses. Specialty areas within the department include: administration and operations, student support, student conduct, facilities, education, staff development, conference services, as well as marketing and communications.
Explore Our Opportunities
---