Commitment to Residential Security
---
We want you to feel at home while you are living in our residence halls; that's why we are committed to creating a safe environment that promotes academic success. Part of students' experience at Rutgers University includes learning safe practices that can be used on campus and beyond. Through a variety of programs, resources and communications, you can learn how to support your own personal safety and encourage a culture of safety among all Scarlet Knights.

Important Tips to Hall Security
---
Carry your keys and ID.
Carry your key and ID to avoid being locked out alone.
Lock your doors.
Lock your door while you sleep, while you work late, and when you plan to leave your room.
Be responsible for your guests.
Your guests become part of our community when you invite them in but they are still your responsibility.
Report your concerns. 
Contact your RA/AA or report your concerns to RUPD 732-932-7211.
Don't prop doors and remove items that do.
Allowing propped doors can put our community at risk.
Close the door behind you.
All residents should use their own ID to enter the building and ensure the door is secured once inside.
University Public Safety and Rutgers University Police Department (RUPD)
---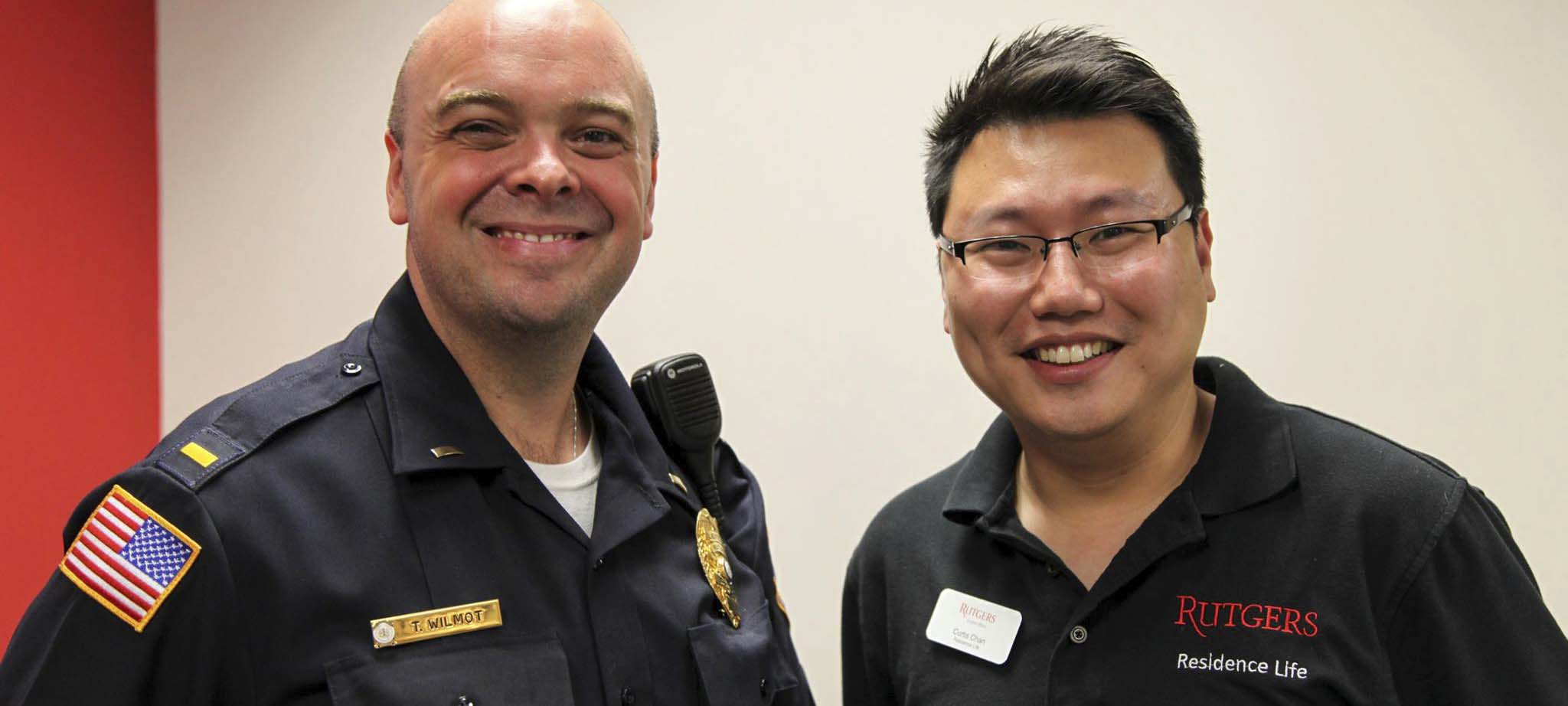 University Public Safety is committed to ensuring a safe environment for everyone at Rutgers. Public Safety is responsible for responding to all emergencies, suspicious activities, crimes and safety concerns. Their goal is to work in partnership with students, faculty and staff to provide a safe, enjoyable, and fulfilling university experience. The internationally accredited Rutgers University Police Department (RUPD) operates 24 hours a day, 365 days a year, to provide the university community with a full range of police and security services. RUPD maintains multiple fully staffed police headquarters. Learn more about RUPD resources and services.
RUPD Crime Prevention Resources RUPD Safety Matters Report
Residence Hall Security
---
Partnership with Rutgers University Police Department provides an efficient response time to urgent and emergency concerns.
All halls remain locked 24/7. Only residents of the residence halls are able to gain entry into their specific residence halls.  Building access is managed by an access control system to maintain a safe and secure campus while providing access to campus facilities. Learn more: University Identity and Access Management
A unique key is provided to all residents and their respective roommate(s) to their residence hall room or apartment. It is strongly encouraged that if a key is lost that it is reported immediately to ensure security of the room/apartment.
Closed Circuit Television (CCTV) systems are installed at entry points of residence halls and are maintained by Rutgers University Communications center
Resident/Apartment Assistants serve on-call and conduct rounds throughout the residence halls to ensure community standards are being upheld and that residence hall policies are enforced.
Residents have access to multiple levels of residence life staff including 300+ Resident Assistants (RAs), 23 Hall Directors (HDs), 21 Residence Life Coordinators (RLCs), four Campus Directors (CD) 4 available 24/7.
Close partnership with campus partner resources such as Counseling Center (CAPS), Deans of Students, and a custodial and maintenance team available 24/7.
Student Affairs Safety Resources

Report an Emergency
Emergency Dial 9-1-1
Phone: 911
Report a Non-Emergency Concern
Rutgers University Police Department (RUPD)
Phone: 732-932-7211
Website
Text a Concern
RUPD – Non-Emergency Concerns
Phone: Text "RUNB" and your message to 69050
Website

Protect Our Home Pledge
---