ACUHO-I Marketing Showcase Awards 2020
Rutgers University–New Brunswick Residence Life introduced its first-ever Virtual First-Year Experience program for Fall 2020. Developed with remote learning and reduced hall capacity in mind, Residence Life wanted to provide a residential community experience for all students, especially those who could not have the opportunity to live on campus due to COVID-19 safety precautions. Below were highlights of how the campaign was developed.
Metrics and Analytics
It was crucial that there was regular data reporting collected and reported out to key stakeholders and those directly involved with recruitment and planning. This helped to gauge campaign performance and create data points to utilize for future recruitment cycles. Data points included website views, unique views, average read time, Facebook event reach, event response, post clicks, post reach, Instagram post likes, Twitter Impressions, Twitter Engagements, tracking URL link clicks, YouTube Views, YouTube retention percentage, and number of overall applicants to the program.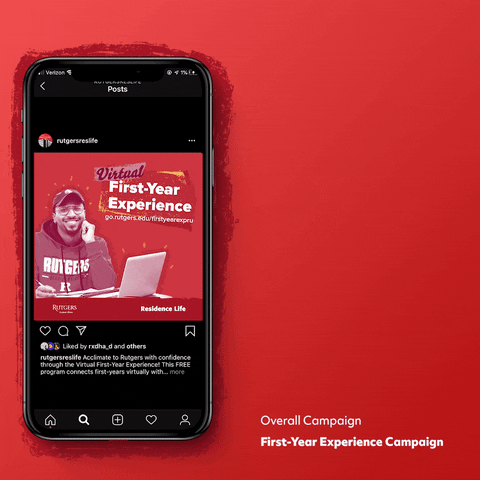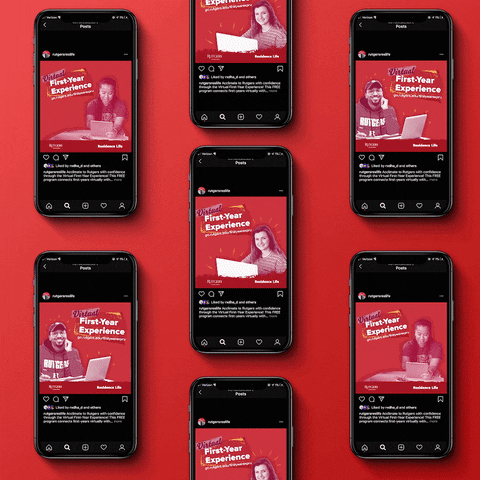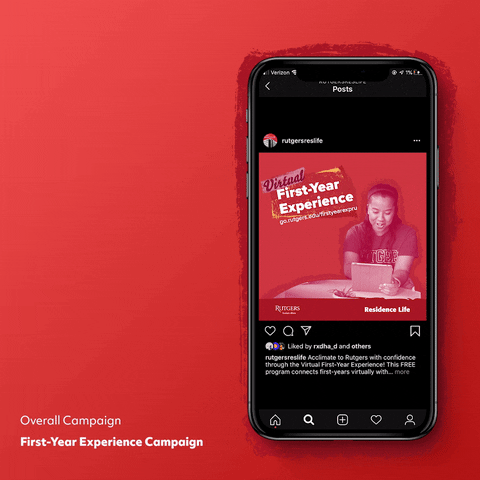 Brochure/Booklet: Wellness Brochure
Student Support Wellness Brochure
After a majority of Rutgers University–New Brunswick residents left campus due to COVID-19, specific populations of students continued to live on campus (students who are international, housing-insecure, athletes, etc.). The department of Residence Life prioritized the mental and physical wellness of the remaining residents by creating a series of wellness programs for this population. For instance, the program Knitting: Unraveling the Conversation Around Mental Health focused on the therapeutic benefits of knitting while creating a safe space to discuss mental health issues. The program facilitators delivered knitting kits to program participants. Our team designed this tri-fold brochure to accompany each knitting kit. The brochures include information about knitting generally, basic knitting patterns, benefits, and wellness resources available to students on campus. The design features high-quality stock photography, organized content, and departmental branding.  
Diversity Peer Educator (DPE) Recruitment Postcard
The Diversity Peer Educator (
DPE
) program provides Rutgers University–New Brunswick residents workshops focused on inclusion, diversity, and social justice. The PDE program is co-owned by the Department of Residence life and the Center for Social Justice Education and LGBT Communities. The workshops are led by other students. Our team designed handouts to promote the program and drive traffic to its webpage. The front of the handout features a vibrant color scheme including Rutgers' iconic Scarlet (PMS 186) and photography representing Rutger's rich student diversity. On the reverse, the core tenants of the program are showcased in a custom graphic. We included a vanity URL to measure the handout's effectiveness. 
Resident and Apartment Assistant Recruitment Poster
Resident Assistant recruitment occurs annually at Rutgers University–New Brunswick. As part of a larger strategic campaign, this 11″x17" poster was displayed in the lobby of each residence hall. The poster design is modeled loosely on New York City subway advertisements. It includes a vibrant color scheme, inclusive of Rutgers' iconic Scarlet (PMS 186), and two-dimensional vector artwork. Our team custom-designed the cast of characters to reflect our diverse student population. We also included a vanity URL to measure the poster's effectiveness which generated over 394 direct visits to the website.
A strategic change to this year's poster was the size. Students and staff provided feedback that the 24″x36″ size was too large for most lobbies of residence hall areas and due to the weight of the poster, would come down before campaign completion. Changing the poster to a more manageable size for bulletin boards and entry ways made the poster more noticeable and easier to be displayed throughout the buildings.
Specialty Item / Promotional Item
Global Roommate Program Tote Bag

 
Residence Life hosts a "Global Roommate Program" that supports new undergraduate international students in their transition to Rutgers and the US by pairing them with a mentor in four-person on-campus apartments. Mentors are current Rutgers students who have an interest in living with international students, and can be domestic or returning international students. The program is grounded in providing support for international students through valuable experiences and positive interactions with mentors. There are also a series of incentives and prizes provided to mentor/mentee groups for their participation in programs that happen throughout the year. A "Global Roommate" themed tote bag was created to incentivize participation in this year's events as well promote spirit and pride of participation in the program. The tote was created with iconic global landmark imagery.
Residence Hall Guidelines and Policies 

 
Rutgers University–New Brunswick Residence Life completed a website redesign which enabled students to have better and faster access high priority content and enabled students to be able to find policies more easily. Traditionally, the residence hall policies webpage has had a decent amount of website traffic, especially during the year as students violate residence hall policies. After receiving feedback from students and staff, it was determined that the website could be re-designed to be more engaging and responsive. As a result, Residence Life completed a page re-design for the 2020-2021 school year. Based on data from the Office of Student Conduct, the top most violated policies were created into graphics and placed at the top as a slider graphics for students to review immediately as they land on the page. This would help prioritize content to students to the most commonly known violations. After that, each policy was broken down into digital "flip cards" in alphabetical order. Each flip card, when hovered over, flipped to present a short description of each general policy. After each short descriptor, the flip card linked to a section of the website where the full policy could be read and reviewed. Review the Residence Hall Guidelines and Policies website. 
Protect R Home Hall Security Campaign: Rutgers Residence Life is committed to creating a safe environment that promotes academic success. The "Protect R Home" hall security social media campaign was created in order to promote students' awareness surrounding hall security and safety. This social media campaign promoted student safety by promoting students to always carry their keys and ID, lock doors, not to prop doors, be responsible for guests and those they allow entry into the building, and to close doors behind themselves as they enter the building. By enforcing these actions, residence life wanted to decrease the chances of preventable "crimes of opportunity". Working in partnership with public safety, information as shared via social media and a "Protect R Home" campaign was created for students to take a pledge to promote hall safety. In addition, if students completed a 30-second online pledge to protect their halls, they would receive a free set of Rutgers tech stickers. This pledge was publicized in a series of social media posts that were scheduled to reoccur throughout the Fall semester to increase awareness of personal safety.
General statistics from the campaign:
 2,150 total reach was generated on Facebook.
13,671 impressions were generated via Twitter.
This resulted in over 300 pageviews to the website.
Review the Protect R Home website where the social media campaign directed traffic. 
Snap Stoles for Virtual Graduation Ceremonies

 
Our culturally-focused Living-Learning Communities graduation ceremony went virtual this year due to COVID-19. To enhance the experience, we created a custom Snapchat lenses so students could still "wear" their graduation stoles. Students were encouraged to use the lens, take a photo with the stole, and then share on social media during the virtual event. Try out the Snap stole here. Also, be sure to check out our "How to Create a Snap Stole" tutorial video created by our team.  
Campus Partner Newsletter
Rutgers Residence Life Marketing wanted to create a more direct communications plan involving their various campus partners. Investing more time in building its listserv, it was determined that campus partners wanted more direct access to residence life information such as move-in, housing selection, Resident Assistant recruitment, hall closings, emergency information, and more. As a result, a series of newsletters were created to promote information surrounding those topics. This was especially useful towards the end of the year as more communications needed to be shared with campus colleagues. Over 125 external campus partners and departmental email addresses were cultivated for this new listserv with more being added every week. Below are the communications newsletters provided to the campus partners list serve. 
October Newsletter (Resident Assistant Recruitment and Peer Mentor Recruitment)
November Newsletter (Resident Assistant Recruitment, Peer Mentor Recruitment, and Hall Security)
December Newsletter (Winter Recess Hall Closing, Diversity Peer Educator, Global Roommate Program, Peer Mentor Recruitment)
February Newsletter (Spring Recess Hall Closing, Diversity and Inclusion Campaign, Conference Assistant Recruitment, Diversity Peer Educators Recruitment)
July #1 Newsletter (Campus partner COVID-19 information Update)
July #2 Newsletter (Virtual First-Year Experience)
August Newsletter (Move-In, COVID-19 safety, etc)
Living-Learning Community Logo
Residence Life marketing worked directly with members of one of the Living-Learning communities to design this custom mark for a t-shirt project. The design pays homage to traditional Japanese artwork with simple line drawings, geometric shapes, and the representation of natural elements including the wave, moon, mountain, and stars. The apparel item was highly popular amongst community members as the ideal was cultivated from its own members. 
Residence Life Staff Apparel "Shop": Residence Life wanted a method of creating an environment of pride and spirit for their department and university throughout campus. The idea evolved into creating a "home grown" "apparel shop" where staff could choose branded apparel items that would be more inclusive of staff needs. Instead of offering a "not-so-one-size fits-all" polo, at the beginning of each year, staff was able to select branded apparel that met the needs of the individual staff member's comfort, size, and body shapes. The marketing unit researched different vendors that could provide a variety of branded apparel offerings that ranged widely in sizes and in different cuts and materials to provide more options for staff to choose from. Vendors were able to offer custom "shops" at an annual cost (costs would range from $500 – $2000 a year), however, Rutgers Residence Life wanted to create a method for staff to "shop" without an extra cost and would be sustainable for years to come. The marketing team created a Google Form (later moved to a Microsoft Form) for staff to be able to log in, view apparel items, and place orders that were customized to their choice in color, size, and university branded logos. There were mock up images of each branded apparel item, links to sizing and measurements, with ability to choose two branded apparel items per year. This led to very high staff satisfaction with wearing their spirited/branded items which led to more visibility on departmental and university branded apparel throughout the office and on campus.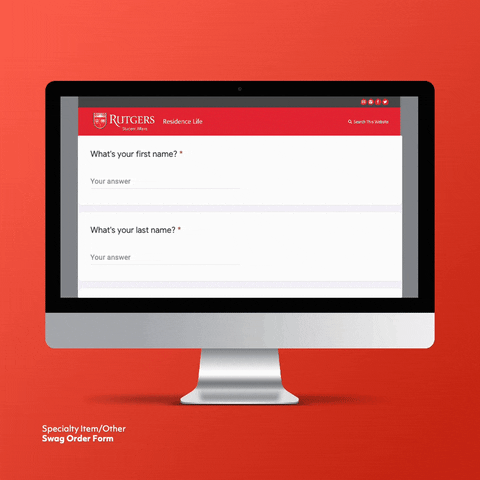 Rutgers University–New Brunswick is one of the country's largest student housing operations. As a result of size, and amount of diverse housing offerings, the housing selection process can be complex. The marketing team developed a strategic plan to educate students about the process. The plan included creating a video to break down housing selection in an informative, concise, and entertaining way. It is set in a residence hall and follows three real students as they navigated the process step-by-step. The video, which launched in January, garnered 950 views, 22.8 hours of watch time, and a 63% retention rate. 
Department of Residence Life
Rutgers University–New Brunswick
COVID-19 Emergency Crisis Communications
Rutgers University­­–New Brunswick, like many universities across the country and around the world, had to develop a crisis communications plan in order to respond quickly to the rapidly developing events as a result of the COVID-19 pandemic.
Crisis Communications Goals
Identify key stakeholders for crisis plan
Identify audiences that need communication
Communicate critical information (reduce misinformation)
Identify key strategies for communication flow
Minimize panic / avoid further crises

Stakeholders/Audiences
Impacted students, on-campus students, general student body, parents/families of students, staff members (internal and external to residence life), facilities, communications internal and external, police/public safety, student health, leadership members within and external to division, Rutgers Office of Emergency Management (OEM), NJ state government, Center for Disease Control, Department of Health, etc.
Identify Key Internal Crisis Communications Team for Residence Life
Executive director – communicates up to University leadership, Emergency Management office
Senior director – communications internally to departmental staff
Marketing director – communications externally to external audiences
Administration director – communications to target student populations
Identify Crisis Communications Needs
Emergency move-out process for majority of residential population.
Protocols for COVID-19 exposure for students and staff.
Procedures for belonging pick up by students who were unable to return to campus.
Procedures and policies for students and families who were approved to remain on campus.
Implemented Tactics
Development of emergency crisis operations page (included all emergency crisis communications in the form of an archive).
Development of a crisis communications tracker to organize and track all written communications, target audiences, send dates and times, review/approval status from crisis communications team members.
Utilization of real-time emergency text messaging survey data.
Resident specific information with mail merged data field with specific instructions for move-out via Odyssey assignments system.
Implementation of a third-party software to allow staff, who were working remotely, to be able to receive urgent telephone calls from students and families.
Development of social media campaign to inform social media followers of real time updates as they occurred.
Utilization of student list servs, campus partners list servs, and other means to communicate outwardly to constiuents.
Crisis Communication Follow-Up
With the beginning of the academic year after the emergency move-out process, there needed to be additional communication and coordination of a move-in process for a reduced capacity campus. Email communication along with a public facing website was developed. This website was created to reduce confusion/misinformation by providing easy to understand facts followed by a FAQ page developed in anticipation of questions from various audiences.
Debrief
A post-crisis communications debrief is important in order to document important information that can be used for future crisis/issues. Post-crisis debrief includes collecting feedback from all stakeholders and audiences internal and external.